Hamburg Airport is cooperating with DFS to install and operate an A-SMGCS by the end of 2008. The DLR will join with a test platform for the evaluation of future developments.
Hamburg, September 27, 2007 – DFS Deutsche Flugsicherung GmbH (German Air Traffic Services) and Flughafen Hamburg GmbH (FHG) are cooperating in the construction and operation of an "Advanced Surface Movement Guidance and Control System" (A-SMGCS) at Hamburg Airport. The first step was taken today when a contract for the project was signed at Hamburg Airport by Peter Waldinger, Technical Managing Director at DFS, and Michael Eggenschwiler, CEO of Hamburg Airport.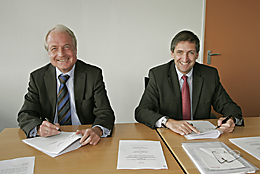 P. Waldinger (DFS), M. Eggenschwiler (FHG)
The A-SMGCS will support the airport and DFS in the secure and punctual handling of air traffic. The introduction of the system will be joined by DLR, for whom it will form the basis of a test platform for validating innovative functions in the context of research projects in a real operational environment.
With this cooperative project, Hamburg Airport is taking on a vanguard role within Europe.
The system simplifies the coordination of taxiing traffic for controllers in the airport's apron control centre and for the controllers in the DFS control tower. Aircraft and equipped surface vehicles on the runways, taxiways and aprons can be identified and controlled more effectively. The A-SMGCS system at Hamburg Airport will achieve this by a combination of two surface radars with a multilateration system. The introduction of the A-SMGCS is scheduled for completion by the end of 2008.
Contact:
Flightoperations Logistics
Hamburg Airport
+49/(040)/5075-3919
www.ham.airport.de